Tattoo Removal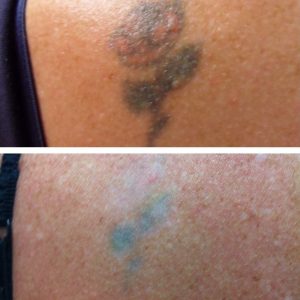 Revive Cosmetic and Skin Clinic are tattoo removal professionals based in Shailer Park, Logan.
The reasons patients would like a tattoo removed varies greatly; it could be for work reasons or to remove a reminder from your past. Whatever the reason, our team at Revive Cosmetic and Skin Clinic are specially trained in tattoo removal in Brisbane and can assist you safely and effectively to get the result you need.
Fotona Q-Max is a world leading laser for tattoo removal. Using advanced Q-switch laser it has the power to remove a broad spectrum of tattoo colours and complex designs. It is built for maximum performance with patented, state-of-the-art innovations to make your treatments safe and effective.
Treatment
Treatment is usually fast, making it tolerable for patients. Some areas of your body may be more uncomfortable than others for the removal process.
The number of treatments you will need to remove your tattoo varies with the size, colours, location, skin type and age of the tattoo. Treatments are scheduled 3 months apart.  Our specialist team will discuss this with you during your consultation.
For anaesthesia we will use either anaesthetic gel, a zimmer or local blocks depending on the area and patient. Skin needling before removal can be used for deeper penetration of laser at an extra $50 charge.
If you have any questions regarding any advice on tattoo removal, please contact Revive Cosmetic and Skin Clinic. The team can offer an assessment to discuss your treatment options.
Please call Revive Cosmetic and Skin Clinic on 07 3801 5824 or contact us online to chat about our tattoo removal services.
Prices start from $250 including pre-needling