Cutera Laser Genesis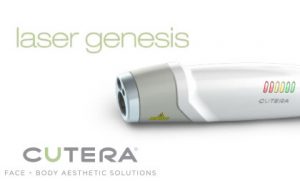 Genuine Cutera Laser Genesis skin therapy is a non-invasive laser treatment to promote vibrant and healthy looking skin in men and women. Now you can have a youthful appearance by treating those conditions that are typically associated with premature signs of ageing and sun damage, such as excessive redness, large pores, uneven texture, scars, active acne and fine-line wrinkles. The Laser Genesis procedure has been scientifically proven to produce new collagen. You can expect to see subtle yet consistent results after each treatment, without unwanted side effects such as bruising or excessive skin irritation. Treatments can be performed in a relaxed, comfortable manner without the use of topical anesthetics or gel.Laser Genesis is a treatment that restores skin tone and treats fine lines and wrinkles, scars, large pores and active acne.
Laser Genesis treatments are basically a 'light' facial using heat to stimulate collagen.  It is like having a light bath over your face.  1000 laser shots are entered into each region of the skin which is bulk heating with 1064nm laser wavelength.  When the dermis reaches 43°C new collagen is promoted and hence, rejuvenation- youthful skin.  There is an instant plumping of the skin visible, but as with all rejuvenation treatments results show as the skin cells turnover up to 30-60 days.  For optimal results, 6 treatments are recommended 4 weeks apart.  It is worth buying a package at the beginning of each year and booking in your treatments to ensure regularity to achieve the best results.  Of course, all rejuvenation treatments should be maintained with good quality skin care such as Beaute Pacifique which is proven, by ultrasound to increase skin collagen.
New to Excel V Plus is Green Genesis- a light bath treatment for redness like rosacea.  If rosacea is your problem, definitely give a series of green genesis a go.
Treatment cost for Face and neck $600
Face only $400
Hands $200
Package of three treatments $1000 for face