I had the pleasure of attending a conference headed by Dr Leonardo Marini, from Trieste, Italy, last week. He spent much time discussing heating the skin to above 43 degrees to induce new collagen and elastin production. The kind of collagen we had when we were young. Then, when you have achieved this with a long pulsed laser, you can then move on to treat wrinkles with fractional laser, Infini RF Microneedling or Dermapen microneedling. He also continues with further treatments such as peels and laser for pigment (brown spots). He calls all of this pre-juvenation of the skin. The earlier we start treatments the longer we can stave off aging.
He showed us how the layering effect produces great results long term. I was especially interested when he showed us photos of hands that he had "Green-toned" with Qswitch laser two years ago and how they still looked good. That is such a plus. It is always great to see how work we perform lasts. The previous blog is written by Shae who I have just treated with her second green toning for pigment on her face. Funny thing, because she works at Revive we tend to cram our treatments in when we have a spare moment and often forget to take photos. I couldn't find a 'before' photo from the first treatment to compare with her current face. BUT, we did find one from when she had a first CO2 fractional treatment 18 months ago and WOW! What a difference one treatment has already made to her pigment. Anyway, green toning for face is $350 and requires no anaesthetic, takes about half an hour and no downtime really. SKin is a bit red when you leave, but settles fast with Stratagel. Brown bits get darker after a few days. Sunscreen is essential aftercare. At around 4- 8 weeks skin will look more even toned and feel smoother (as texture improves with this treatment). Hands cost $150.


Tattoo removal has now changed with the advent of a second pass of laser, once you cool the skin. This considerably decreases the number of visits and treatments required. I was pleased to see that the microneedling I always pre-treat the tattoo with is definitely the way to fly.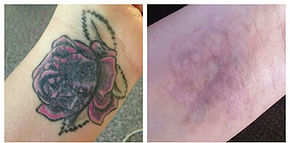 The other amazing thing Leonardo introduced us to is STRATAPHARM products. This silicon skin barrier gel helps heal by providing a new skin barrier to skin that has been compromised with laser, surgery or peels. It cools and soothes immediately and helps prevent and correct old and new scars. Already trying on my patients who LOVE IT. Available at the front desk. Stratamed $27.50