New to Revive is this extremely effective vascular laser.  The laser staff at Revive had a little play with all the interesting new features of Cutera's ExcelV Plus laser last Thursday.
I have to say I love the Dermastat handpiece. Shaped like a pen, designed to get into those tiny corners like the nose area to get pesky little red veins which can be a little hard to treat effectively with the usual handpiece. A great bonus is that you can easily treat little pigment spots, too.
Green genesis is my new favorite, though. I have always loved traditional 1064 Laser Genesis, which I liken to a light bath for your skin, which happens to rejuvenate- lovely results over time.  But Green Genesis is great for Rosacea and intermingled red and brown discoloration. It is a light bath also,  but the wavelength is shorter and aimed more at superficial skin. It is not for everyone,  though, just for lighter skin types, Fitzpatrick I-III. So, if you feel like you would like to give it a try 3-5 monthly treatments is recommended.  $400 a treatment but introductory offer $300 valid till August 31, 2020
The larger spot size on the vein handpiece means that all other treatments including leg veins are much quicker.  Cutera ExcelV plus is a winner.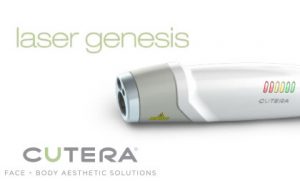 https://cutera.com.au/sites/default/files/styles/before_and_after_after/public/before_and_after/excelvplus-Vascular-Lesions-Telangiectasias-Stankiewicz-P4-post3tx.jpg?itok=6FF3Mw7v